PainChek Infants iOS Release Note - Update 2.6
Who should read this?
This release note applies to all PainChek users who are currently using PainChek for iPhone or iPad app
What's happening?
The PainChek Infants iOS App release version 2.6 is in limited release via Test Flight on Monday 22nd May 2023.
What's changed?
Bug Fixes and Performance Improvement
Fixed an issue where the Infant order was incorrect.
Fixed an issue where "No Pain" was displayed where there was pain identified.
Fixed an issue where the Actions menu would not be displayed if there were more than 12 active Infants.
Updated the label on the Archived Residents form to "Archived Residents".
Make the keyboard behaviour more consistent.
Infant assessment form improvements.
New Features and Enhancements
Added a warning if a new Infant is added with the same details as an existing Infant.
Added facial animations to the face domain tooltip.
Upgraded the jailbreak detection library.
Added mobile security enhancements.
First Name and Last Names are now trimmed if there are spaces at the start and end of the names.
Added support for broader range of gender identities.
Added a message when a domain toggle is inactive.
Added support for multiple languages.
Updated to Xcode 14 to support iOS 16
Backend and Maintenance Updates
Improved the GET and POST calls for the assessment endpoints.
What do I have to do?
If your device is set to receive updates automatically, there is no need to do anything. PainChek should be updated automatically.

You can check the version of the application from the PainChek dashboard by selecting the "Support" option and then selecting "About PainChek":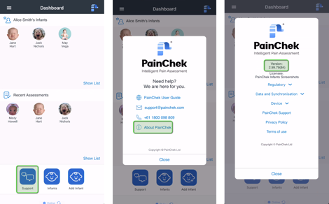 Otherwise, access the Apple App store, search for PainChek and select "Update" if available.
Where can I get more information?
Email us at support@painchek.com or call on 1800 098 809 during business hours.
For general information about PainChek, visit us at www.painchek.com